At the very heart of enterprising Asia, few other cities can match Hong Kong's strategic commercial and geographical access to some of the world's largest and strongest economies in the region. Combined with its comprehensive international transport connections and economic advantages, it becomes Asia's top spot for strategic events that allow all attendees to get right down to business, both in Hong Kong and beyond.
Strategic location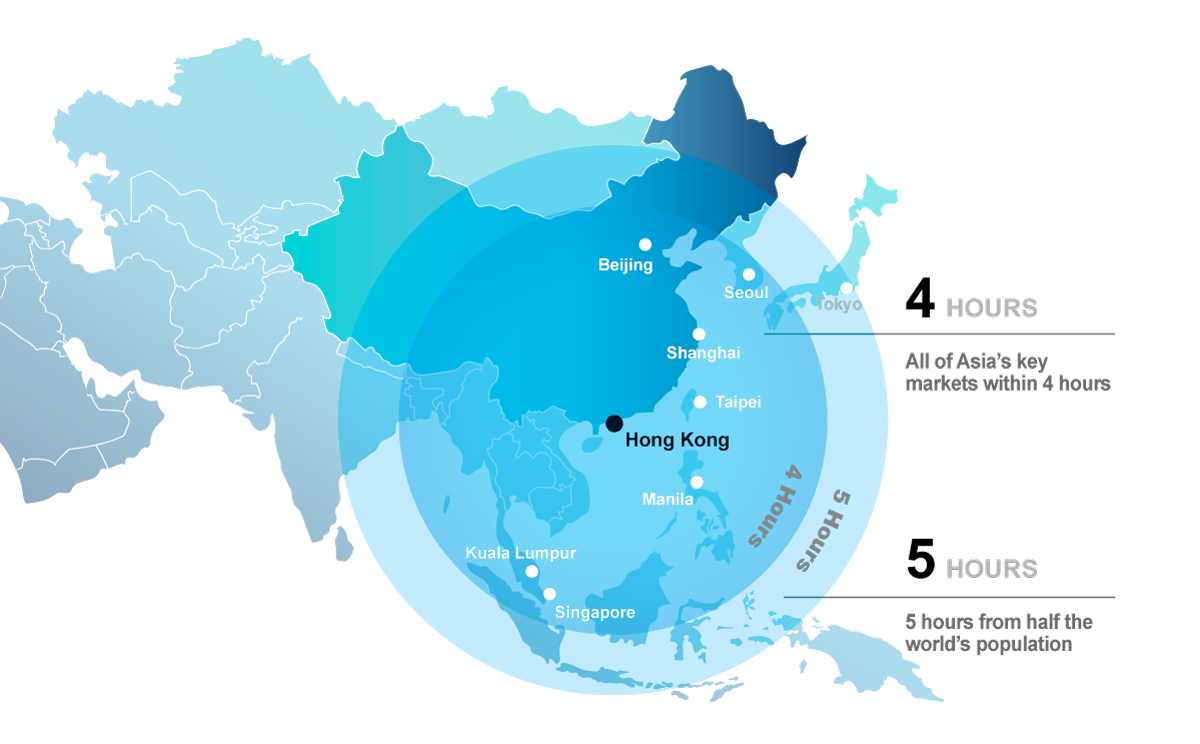 Hong Kong is strategically located within a four-hour flight from most of Asia Pacific's key financial markets, and less than a five-hour flight from half of the world's population, making the city an ideal place for business events and inbound travel from all over the world.
A major aviation hub
As one of Asia's busiest aviation hubs and the world's busiest airport for international cargo, the multi award-winning Hong Kong International Airport (HKIA) connects Hong Kong with over 200 destinations worldwide including major cities in Asia Pacific, Europe, the Middle East, and North America. The airport operates in conjunction with over 120 international airlines.
HKIA ranks among 11 hub airports that have a distinguished Skytrax 5-star rating, and has also garnered over 80 "World's Best Airport" awards over the years. Hong Kong International Airport's handy downtown check-in service, e-Security gates, free Wi-Fi and high-speed Airport Express train make business travel in and out of the city effortless and enjoyable.
Multiple passages to Mainland China
As the gateway to Mainland China, Hong Kong offers exclusive and easy access to around 50 destinations in Mainland China itself via plane, land, or sea. Direct flights into Beijing take around three hours, with hundreds of flights operating on a daily basis. The Hong Kong-Zhuhai-Macao Bridge is only a 30-minute car journey, facilitating a consistent flow of visitors and commodities between Hong Kong and some of Mainland China's affluent consumer markets. The Guangzhou-Shenzhen-Hong Kong High Speed Rail links visitors to Mainland China's national high-speed rail network, the world's largest rail network, tightening Hong Kong's economic ties with Mainland China and its most populous southern cities. Cross-boundary ferry services are also available to Macao and various ports along the coast of the Mainland, providing high-speed water transport between the Pearl River Delta and Hong Kong and Macao's ferry terminals.
Thrive across time zones
Sharing the same time zone as major cities including Beijing, Kuala Lumpur, Manila, Perth, Shanghai, Singapore, and Taipei makes doing business from Hong Kong ideal for maximising international opportunities in real-time. The city also has a mere one-hour time difference with Bangkok, Jakarta, Seoul, and Tokyo, enhancing the ease for mutually convenient engagement with Asia Pacific's high-growth markets.